Tree House 680W 400AhAGM 1200VA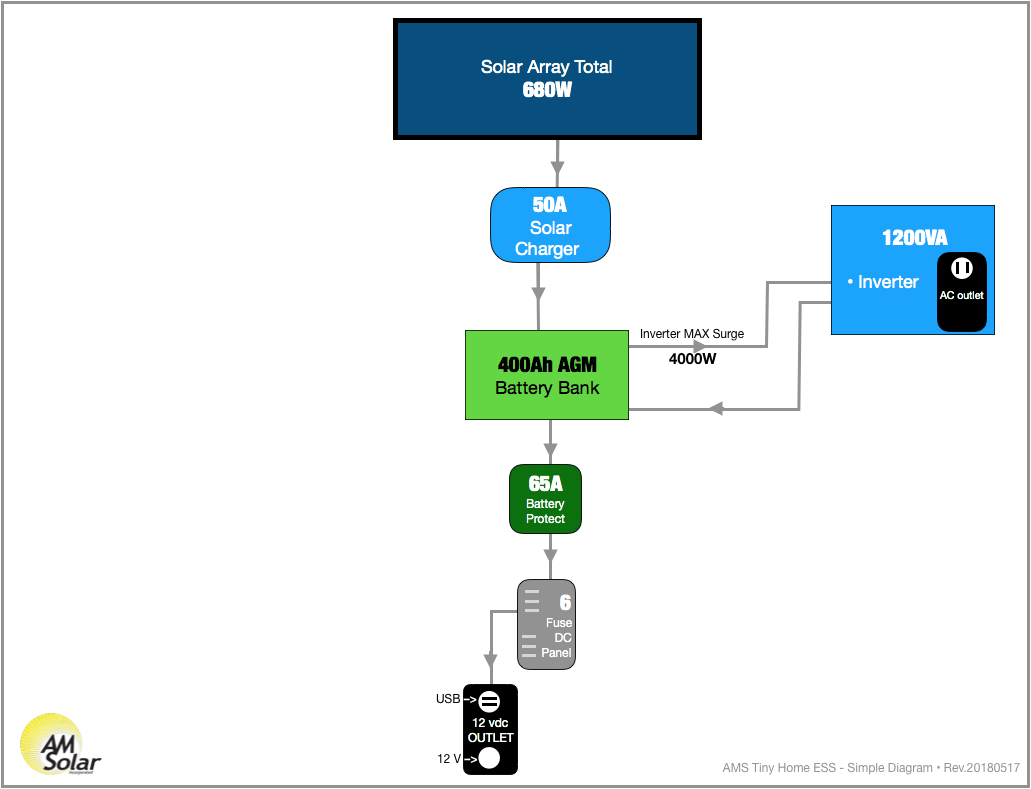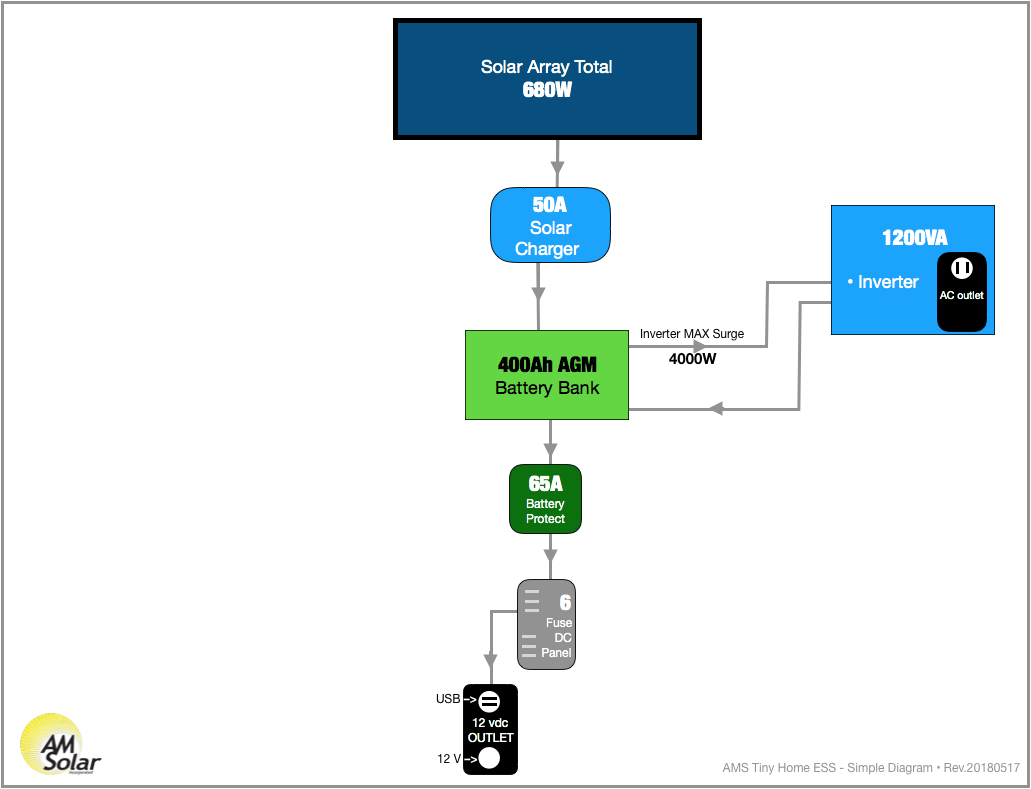 Tree House 680W 400AhAGM 1200VA
- 4x 170W Solar Panels with mounts and wire harnesses
- Mounts for metal roof included
- 50A Victron SmartSolar MPPT Charge Controller with Bluetooth Communication
- Victron BMV-712 Battery Monitor with Bluetooth Communication
- 2x Lifeline 400Ah AGM 6V Batteries
- 1200W Victron Phoenix pure sine inverter with AC outlet
- 60A DC Battery Protect with remote disconnect prevents over discharge
- 6 position DC fuse block with DC outlet offering dual USB and standard 12V
- Lugs, heat shrink, cables, etc. All included
This power system includes all the critical components to power a minimalist lifestyle. A powerful solar system will maintain a sealed AGM battery bank. The DC output passes through a protection system to prevent overly discharging the battery bank, and can easily power LEDs, fans and cell phone chargers. On the AC side, a small inverter can power a laptop, entertainment system or small appliances.
What you get:
All the components needed to make a complete system
Installation manual with a full bill of materials
Connection diagrams detailing the entire system
AM Solar phone, email and Facetime support
Upgrade or Modification Options:
This complete kit is composed of four subsystems: Solar Charging, Battery Bank/Monitoring, AC Input/Output & DC Distribution. These subsystems can be removed or modified based on what you already have or want.
Solar
Changing the Panels: The charge controller can support a maximum of 680W, so no more panels can be added. But, you may consider removing one or all of your 170W panels and adding other panels with a total wattage of 680W or less.

Change the Charge Controller: The current charge controller core is rated for 50A and uses 4ga cable. If you plan to use less solar wattage, a smaller core like the 15A or 30A might be more economical. Or, if you want more than 680W, check out our 70A, 85A and 100A charge controller cores using thicker 2ga cable.

External Port: A charging port can be added that would allow for the use of folding panels as long as the charge controller can handle the extra wattage.
Battery Bank
Different AGM Batteries: The standard configuration comes with two 6V 400Ah AGM batteries. If you want more energy storage you could get a couple 12V 255Ah batteries connected in parallel. You could also add more pairs of 6V 400Ah batteries, or get smaller 220Ah or 300Ah. All batteries need to be the same make, model, and age.

Lithium Batteries: If space constraints are more restrictive than budget constraints, you can add up to four Lithium Battery Add-on kits to the Lithium Base Kit as long as all the kits have the same amp-hour rating.
AC and DC Distribution
More DC Outlets: The standard configuration comes with a 6 position fuse block. We have a 12 position block available. You can also get more outlets.

More AC Outlets: The standard inverter has one built-in AC outlet. If you need more, you can plug in a power strip, or modify an extension cord to a sub panel with breakers and use that to feed additional outlets.
Inverter/Charger System
Simplify the Inverter: If you don't need the full 1200VA you may be interested in our smaller 250VA, 500VA or 800VA stand-alone inverter kits which are plenty large enough to power a laptop and charge a cell phone.

Add a Charger: With this kit, you do not have the option for generator charging, but it can be added. It can be as simple as a 7A clip-on charger, or permanently Progressive Dynamics 45A or 60A model with a cord and inlet, or upgrade to an inverter/charger all-in-one unit.

Upgrade the Inverter: You may consider the Victron Multiplus 2000VA and 3000VA inverter/charger systems with shore power cord, inlet, main panel, and subpanel.
Monitoring
Upgrade the Display: Add a wall mounted MPPT Control to monitor the charge controller or a Victron Color Control GX Monitor to show complete system status on a single animated display.
Plan your build with these components:
AM Solar Part Number: 99-TNYESS