Xantrex Freedom 2000W Inverter Kit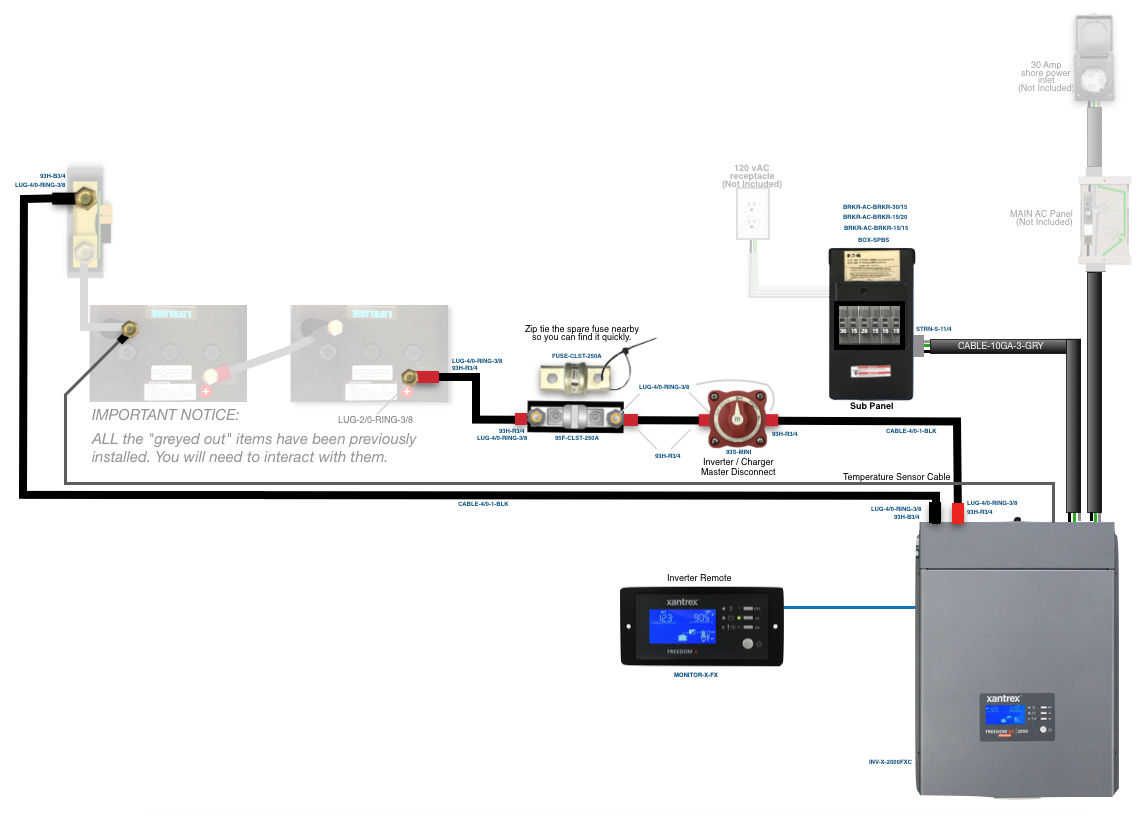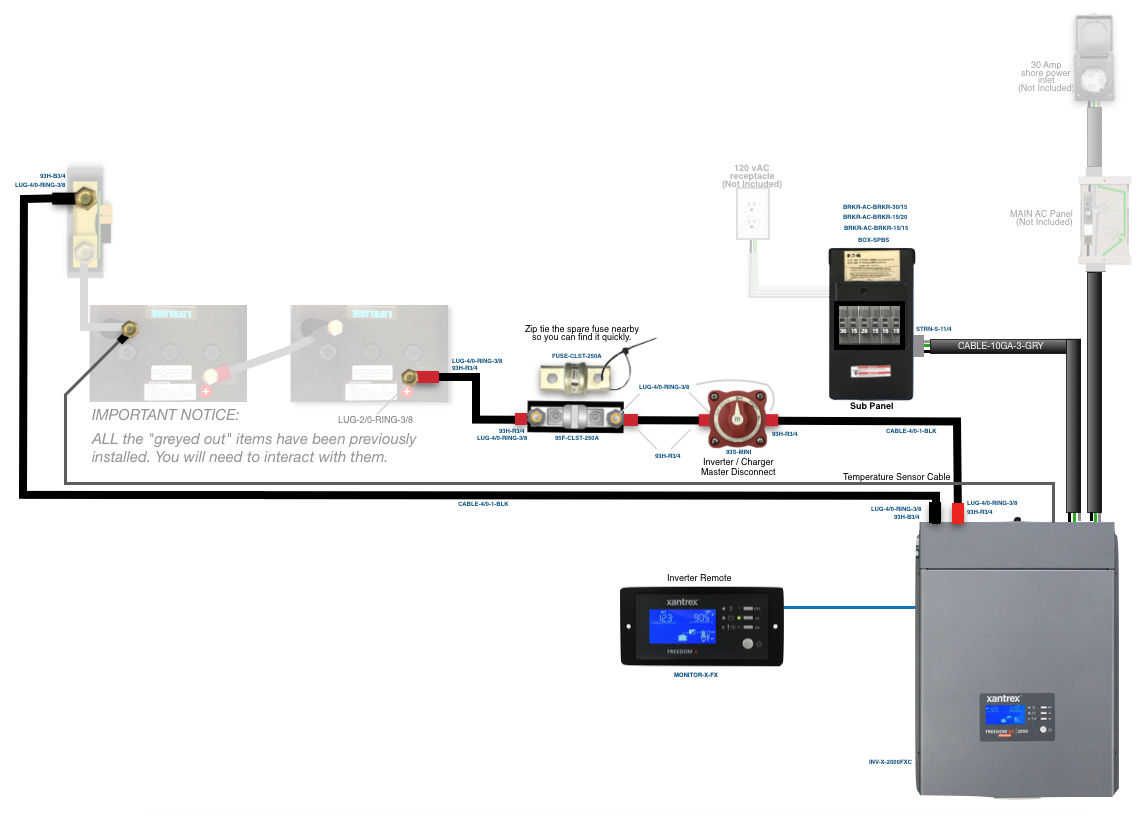 Xantrex Freedom 2000W Inverter Kit
This kit includes all the standard components for the do-it-yourself installation of a Xantrex Freedom XC 2000W inverter/charger system.

Steady State: 2000W
Surge: 4000W
Voltage Output: 120V AC
Max Voltage Input: 18V DC
Waveform: Pure Sine
Frequency: 60hz
Charger: 80A
Passthrough: 50A
Efficiency: 87.5%
Dimensions: L 15.4" x W 10.8" x H 4.0"

The Freedom XC inverter/charger offers premium performance in a lightweight compact package. It cranks out full output in invert or charge mode from -4°F - 104°F for operation in all climate temperatures. The extended surge rating of the Freedom XC makes it ideal to start difficult loads including fridge and microwave. The quick connect terminals at AC IN/OUT make installation a breeze.
Installation diagrams:
What you get:
1x INV-X-2000FXC Xntrx Freedm XC 2000W Inv/Chgr
1x MONITOR-X-FX Xantrex Freedom X Remote Panel
8x LUG-4/0-RING-3/8 4/0 Lug-3/8" Ring
12' CABLE-4/0-1-BLK Cable 4/0
1x STRN-S-11/4 CHE 2633 Strain Relief 1-1/4"
6x 93H-R3/4 Heat Shrink Red 1.5" x 3/4"
2x 93H-B3/4 Heat Shrink Black 1.5" x 3/4"
1x 95F-CLST-250A 250A Class T Fuse & Holder
1x FUSE-CLST-250A Spare 250 Amp Fuse
1x WIRETIE-05 GT-40S-0 Black Wire Tie 5-7/8"
1x 93S-MINI Switch-Mini On/OFF with Screws
16' CABLE-10GA-3-GRY Stranded 10/3
1x BOX-SPBS Sub Panel Brkr. Box-Surface
1x BRKR-AC-BRKR-030A AC Breaker 30A
1x BRKR-AC-BRKR-15/15 AC Breaker 15A/15A
1x BRKR-AC-BRKR-020A AC Breaker 20A
You may also be interested in:
Easy Start Kit
Easy start kits are typically installed on large air conditioning units where the start-up surge might overwhelm an inverter.
Recommended installation tools:
Due to the delicate nature of the electronics and high cost of shipping, all inverter sales are final. If there is a problem with your unit we can connect you with the manufacturer's tech support team to resolve any potential warranty issues.
Xantrex Part Number: 817-2080
AM Solar Part Number: 99-XT2000KIT